Summer Courses

Summer School in Scandinavian Manuscript Studies
Two-week intensive courses in working with medieval and early-modern manuscripts
14 - 23 August 2023
See the preliminary schedule here
The summer school in Scandinavian Manuscript Studies is a collaboration between the Department of Nordic Studies and Linguistics at the University of Copenhagen, the Árni Magnússon Institute for Icelandic Studies at the University of Iceland and the National and University Library of Iceland. It affords students a unique opportunity to gain hands-on experience working with manuscripts under the guidance of researchers from these three institutions. 

Consisting of lectures, workshops, excursions and special presentations, the summer school offers its participants basic training in palaeography, codicology and transcription of manuscripts, as well as in-depth workshops on editorial technique and textual criticism. 
Student target group
The courses, which comprise both lectures and practical sessions, are intended chiefly for graduate students (MA/PhD-level) but may also be of interest to more established scholars hoping to improve their manuscript reading and editorial skills. Some background in Old Norse is essential. Familiarity with one or more of the modern Scandinavian languages, while a distinct advantage, is not required, as all teaching will be in English.
Teaching methods
The summer school consists of three modules, each of which requires an increasing level of knowledge of and experience in working with manuscripts. Each module is worth 7.5 ECTS credits, and is it therefore not possible to take more than one module each year.
The modules are:
1) Reading and Working with Manuscripts. A basic module, focusing on palaeography, codicology, manuscript description and transcription.
2) Theory and Practice of Scholarly Editing. An advanced module, focusing on editorial technique and the theory and practice of textual criticism; to qualify for the latter one must normally have successfully completed the former.
3) Preparing an Edition. A Master class for those who have completed the basic and advanced modules and want to try their hand at preparing an edition of a previously unedited text.
Workload
The workload amounts to a total of 210 hours, equalling 7.5 ECTS.
For PhD students credits are 5 ECTS.
This includes preparatory reading before the beginning of the summer school. A list of recommended reading can be found here.
The timetables for 2023 will be made available closer to the date.
Learning outcomes
Upon successful completion of the summer school, participants will have obtained
Knowledge and understanding of
Palaeography: different script types used in medieval and early modern Scandinavia (from Carolingian minuscule to Gothic types of scripts), their development, and their characteristic letter shapes
Abbreviations in written scripts, recognising them and expanding in a meaningful way
Codicology: describing a medieval codex, knowledge about the production of books in the Middle Ages and early modern times (the different stages and people involved)
Differences between West-Norse and East-Norse manuscripts and scripts
History of edition from traditional philology (Lachmann) via Bédier and Cerquiglini to New/Material philology
 Skills in
Reading and transcribing texts in medieval and early modern scripts
Identifying different script types and giving a relative dating
Locating and identifying the numerous manuscript witnesses (copies) of a certain work
How to collate manuscripts for variants (variant apparatus)
How to make a stemma codicum
 Competencies in
Working with manuscripts in modern collections
Describing medieval manuscripts, their form and function
Theory and practice of scholarly editing
Technical realisation of edition work/project management
Preparing an edition of a previously unedited text
Examination
Students will be assessed throughout the courses, based on active student participation consisting of:
80 % attendance of the total number of instruction classes
active participation in the discussions, assignments and group work during classes
final oral presentation (module 3/master class only). 
Tuition fees
For information on tuition fees for MA students, please visit the Faculty of Humanities summer school website.
PhD students registered at any university participate for free. See PhD Courses in Denmark.
Information on living costs and costs of accommodation is available at the UCPH website for international students.
Registration
Registration is now closed.
Summer Courses at UCPH
The Faculty of Humanities offers its courses in as part of the UCPH International Summer Programme. The summer school courses are open to international as well as Danish students.
Teachers 2023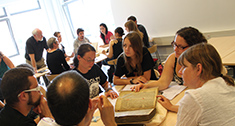 Course teachers:
University of Copenhagen
Lund University
University of Copenhagen
University of Iceland
University of Copenhagen
University of Iceland
University of Copenhagen
University of Copenhagen
University of Copenhagen
University of Copenhagen
University of Iceland
University of Copenhagen
University of California, Berkeley
Norwegian University of Science and Technology
University of Iceland
... and more TBA!