14 April 2020
A Low German fragment of St Birgitta's Heavenly Revelations
Manuscript of the Month
AM 79 8vo consists of a heterogeneous collection of medieval manuscript fragments in several languages: Danish, Low German, Dutch, High German and Latin. One of these fragments, AM 79 II α 8vo, contains a Low German translation of St Birgitta of Sweden's Heavenly Revelations.
St Birgitta of Sweden in the Low German World
During her lifetime St Birgitta of Sweden (1303-1373) received ca. 7000 visions in which God the Father, Christ, the Virgin Mary or the occasional saint or angel instructed her on biblical events, such as the birth of Christ, as well as theological and political topics. During the canonisation process shortly after her death (1377-1391), her confessor Alfonso Pecha, a former bishop of Jaén in Spain, collected the Latin records of these visions under the title 'Heavenly Revelations' (Revelationes celestes) and organised them into 12 books. The Latin revelations were translated into Birgitta's native Swedish in the late 14th century and into many other European vernaculars, including Low German in the 15th century.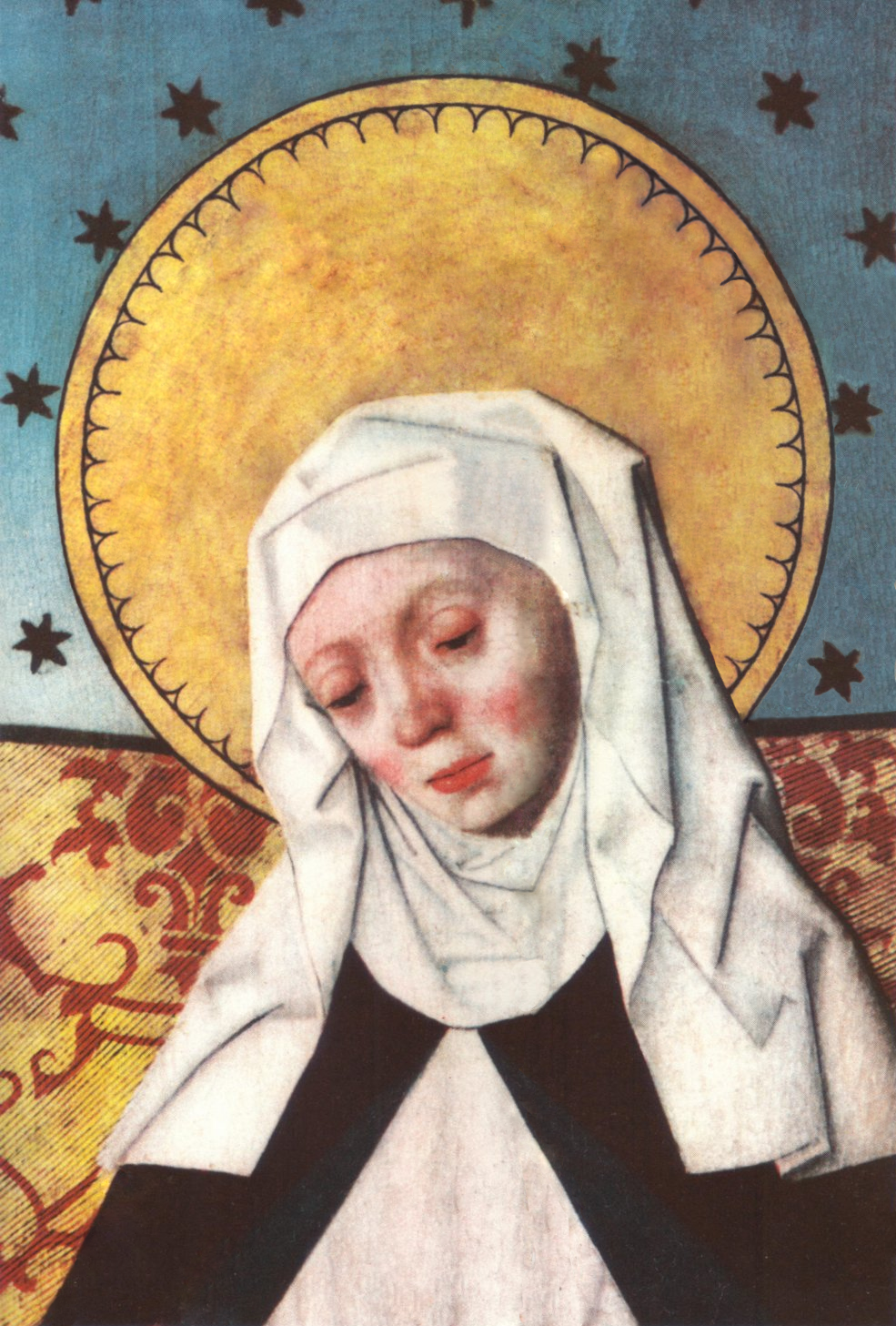 Special interest in St Birgitta and her works grew in the Low German-speaking Hanseatic cities around the Baltic sea, were she was considered almost a local saint. Convents of the Brigittine order, The Order of the Most Holy Savior (Ordo Sanctissimi Salvatoris) founded by St Birgitta in 1344, were established at Mariendal (Pirita in Reval, modern Tallinn, Estonia, 1412-1575), Marienwohlde (Mölln near Lübeck, Germany, 1413-1558) and Marienkron (Stralsund, Germany, 1421-1525). It can be assumed that most Brigittine literature and manuscripts in Low German were produced in those three so-called 'Hanseatic' monasteries.
In addition to these monasteries, the printing houses in the city of Lübeck played an important role for the dissemination of Birgitta's work in Northern Europe. They published several Low German prints with excerpts or adaptations of Birgitta's works as well as the first Latin print of the entire Revelationes in cooperation with both the order's mother house at Vadstena and the local convent at Marienwohlde.
The Arnamagnæan Fragment
Copenhagen, Arnamagnæan Institute, AM 79 II α 8vo is a single, heavily damaged and partly illegible parchment leaf that has been cut and reused as a cover for another book for a longer period of time. It contains parts of chapters 8 to 10 of Book VII of Birgitta's Revelations in Low German. The text is written in two columns with parts of 37 lines preserved. Extensive rubricated headings (9 and 15 lines) and two darkened illuminated initials (8 lines each) mark the beginning of the 9th and 10th revelation. The script is a bold, round and looped semicursive script or Bastarda, while the language shows features of Northern Low German.
Based on the preserved fragment, the original manuscript must have been a prestigious folio codex that likely contained a complete translation of Book VII of Birgitta's Revelations. This makes AM 79 II α 8vo the only surviving evidence for a complete translation of one of the 7 main books of the Heavenly Revelations into Low German. Previous research has typically contested the existence of this type of book in Northern Germany.
| | |
| --- | --- |
| Recto side of the fragment AM 79 II α 8vo. Enlarged initials indicate the start of chapters 9 (column A) and 10 (column B) of Book VII of Birgitta's Revelations. | Verso side of the fragment AM 79 II α 8vo, containing chapter 10 of Book VII of Birgitta's Revelationes. |
Chapter 10 of Book VII is also preserved in another manuscript, Hamburg, University library, Codex Convent X. This 15th-century paper codex in quarto contains the legends of St Birgitta and her daughter Catherine as well as a selection of Birgitta's Heavenly Revelations. Palaeographic and codicological differences between the two manuscripts suggest either an origin in different monasteries or a longer period of time between their production. However, a comparison between the shared text in Codex Convent X and AM 79 II α 8vo shows that, in spite of textual differences, both versions derive from the same translation. It also becomes possible to determine that AM 79 II α 8vo originally contained 38 lines of text based on comparison with the other manuscript.
Origin and Provenance
It remains unclear how exactly the fragment ended up in the Arnamagnaean Collection. According to a written note at the beginning of AM 79 II 8vo, at least part of the fragments were previously held by the Danish National Archive and some were clearly used as binding material for administrative documents. This does not seem to have been the case for AM 79 II α 8vo which has instead been used as a cover for another book, either a manuscript or printed codex. Nevertheless, this does not exclude that the fragment was in the National Archive at an earlier point.
It is likely that the original codex was originally produced for one of the 'Hanseatic' Brigittine monasteries. However, the limited amount of surviving manuscripts from these monasteries and the palaeographic and codicological variation between those makes it impossible to identify with certainty a specific monastery. The most likely candidate seems to be Marienwohle at Mölln because of its geographic proximity and close historical connection to Schleswig-Holstein and Denmark. This monastery was destroyed in 1534 during the so-called Count's Feud (Grevens Fejde), the Danish civil war that lasted from 1534 to 1536, and in 1558 the monastery's properties were confiscated by Duke Francis I of Saxe-Lauenburg due to the Reformation. The remaining buildings were destroyed.
The monastery library was for the most part lost, although some incunables (early printed books) are today held by the library of the St. Nikolai Church in Mölln and some manuscripts by the city libraries in Hamburg and Lübeck. It remains unclear whether AM 79 II α 8vo came to Denmark as a yet whole codex and was cut for binding material only there or whether it arrived already together with the book it was used for as a cover.
Contact
Tom-Niklas Lorenz received his M.A. in Scandinavian and German Studies from Kiel University.
Bibliography
Andersen, Elizabeth. 2014. "Birgitta of Sweden in Northern Germany. Translation, Transmission and Reception." In: Andersen, Elizabeth / Lähnemann, Henrike. (eds.). A companion to mysticism and devotion in Northern Germany in the late middle ages. Leiden, 205-230.
Mante, Axel. 1971. Eine niederdeutsche Birgitta-Legende aus der Mitte des XV. Jahrhunderts. (Staatsund Universitäts-Bibliothek, Hamburg, Cod. Convent 10). Stockholm.
Meinardus, Otto. 1989. "Zu den Inkunabeln der Möllner St.-Nikolai-Kirche." Zeitschrift des Vereins für Lübeckische Geschichte und Altertumskunde 69, 315-324.
Montag, Ulrich. 2005. "The translation of St Birgitta's revelations into German." Birgittiana 20, 241-247.
Nyberg, Tore. 1965. Birgittinische Klostergründungen des Mittelalters. Lund.
Sander-Olsen, Ulla et al. (eds.). 2013. Birgitta atlas. Saint Birgitta's monasteries. Die Klöster der Heiligen Birgitta. A transeuropean project – Ein transeuropäisches Projekt. [S. l.].
Contribute to Manuscript of the Month
Have something to say about one or more manuscripts in the Arnamagnæn Collection? Contribute to the column Manuscript of the Month to get your research out there! Write to Seán Vrieland (sean.vrieland@hum.ku.dk) for more details.