15 February 2018
A hand-written copy of a printed book
Manuscript of the Month
Among the more recent acquisitions to the Arnamagnæan manuscript collection in Copenhagen is a group of mostly early-nineteenth century manuscripts containing copies of Old Norse-Icelandic sagas.
The institute received these manuscripts as a gift from the Cathedral School in Nykøbing Falster in 2007. One of the manuscripts in this collection, AM Acc. 61, is a modest book in quarto format, which contains four Legendary Sagas copied by a Danish author, Frederik Julius Schaldemose, around the year 1816.
A manuscript based on a printed book
Almost four hundred years after the publication of the Gutenberg Bible, when the practice of hand-copying books should long ago have faded into oblivion, yet another hand-written copy of four Icelandic sagas was made. All four texts preserved in this manuscript belong to the group of the Legendary Sagas, stories dealing with legendary heroes of Scandinavia from the late Iron Age and the Viking Age. The sagas included in the volume are Hálfs saga og Hálfsrekka (preserved on folios 1r-17v), Hrómundar saga Gripssonar (18r-29r), Hálfdanar saga Brönufóstra (30r-49v), and Hrólfs saga kraka (51r-134r), all of which focus on legendary heroes of Denmark and Norway. Some of them also contain literary parallels to the well-known Old English epic poem Beowulf.  Perhaps surprisingly, the texts in AM Acc. 61 are not written in Danish or Latin, but in Old Norse, the original language in which the stories were composed in the Middle Ages. In fact, none of these texts existed in Danish translation at the time AM Acc. 61 was written.
The exemplars of the other sagas still remain unknown, but at least one of the texts preserved in AM Acc. 61, Hrómundar saga Gripssonar, was copied from a printed edition, Eric Julius Björner's Nordiska kämpa dater, i en sagoflock samlade om forna kongar och hjältar, a compilation of texts dealing with a pre-history of Scandinavia published in Stockholm in 1737. The relationship between the printed book and the manuscript is clear, as the latter reproduces all the textual errors and peculiar readings of the edition. AM Acc. 61 is a unique manuscript in the transmission history of Hrómundar saga Gripssonar, as it contains a text which is a very reliable copy of the exemplar – something that did not happen very often in the Icelandic scribal tradition, where scribes frequently and rather freely changed the texts they copied. But here, the scribe did not introduce any textual variants into the text of the saga, and the orthographical variants are very limited. Even the punctuation and capitalization of the printed edition are, to a great extent, retained in the manuscript.
The scribe
The scribe of AM Acc. 61 is Frederik Julius Schaldemose, a Danish author, translator and poet, whose literary endeavours have not received much attention in modern scholarship. Schaldemose was born on the 15th of February 1783 in Wedellsborg and died on the 22nd of February 1853 in Copenhagen. He was the son of Niels Schaldemose (1742-1789), a forester, and Cathrine Marie Schmidt (1756-1799). After his father's death, Frederik lived with his mother in Horsens, where he attended secondary school. He served as a second lieutenant in the military and was taken to England as a prisoner of war in 1808. Shortly after he came back to Denmark, he became a teacher at the Cathedral School in Nykøbing Falster in the years 1816-1825 (Dansk biografisk Lexikon, tillige omfattende Norge for Tidsrummet 1537-1814, 1901, 15:48-50). At that time, he donated his manuscripts to the school's library. The manuscript AM Acc. 61 contains a provenance note on folio 1r, which reads "Skjenket skolebibliotheket af Hr. Schaldemose" (Given to the school library by Mr Schaldemose). (See the picture below.)
Schaldemose has been called "a great and forgotten author" (Storm 2002), which accurately reflects how little we know about his literary activities. He translated various works from Latin, Russian, Spanish, French, German, English, Italian, Swedish and Dutch literature into Danish. In 1847 Schaldemose published a translation of the Old English poems Beowulf and Widsith, with an introduction and a commentary, entitled "Beowulf og Scopes Widsid: to angelsaxiske Digte, med Oversaettelse og oplysende Anmaerkninger" (Beowulf, and Widsith: two Anglo-Saxon poems, with translation and commentary) (Schaldemose 1847). His interest in history and folklore manifested itself also in the publication of "Krønnike-Lises Æventyr, eller fyenske Sagn" (1844), a collection of old stories and legends from the island of Fyn. Not much is known about his interest in Old Norse-Icelandic literature, however, and even less about his activity as a scribe. Icelandic is not even included in the list of languages he worked with, as presented by Storm (2002, 61, 69), making the collection of manuscripts in the Arnamagnæan Institute an important source of knowledge about Schaldemose's literary interest.
Contact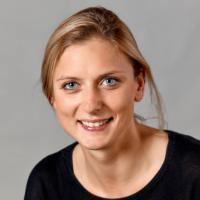 Katarzyna Anna Kapitan is a ph.d. student at the Arnamagnæan Institute.
Telephone: +45 35 33 23 97
kak@hum.ku.dk
A full manuscript description for AM Acc. 61 can be found on Handrit.org.
Bibliography:
Dansk biografisk Lexikon, tillige omfattende Norge for Tidsrummet 1537-1814. 1901. Vol. 15. Kjøbenhavn.
Schaldemose, Frederik Julius, ed. 1844. Krønnike-Lises Æventyr, eller fyenske Sagn. Birkerød: Strandberg.
———. 1847. Beo-Wulf gg Scopes Widsid: To angelsaxiske Digte, med Oversaettelse og oplysende Anmaerkninger. Kjøbenhavn: Møllers.
Storm, Peter. 2002. "Frederik Julius Schaldemose: En stor og glemt forfatter." Vends, årbog for lokal- og kulturhistorie på Nordvestfyn, 61–70.